It's Your Day
Send a cup of cookies with a gourmet coffee. Perfect for enjoying the day
$34.95, $38.95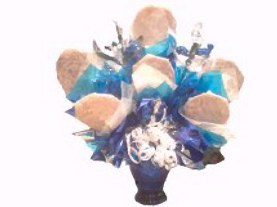 Love Them Royals
Select your cookies and your colors. We'll create a unique bouquet just for you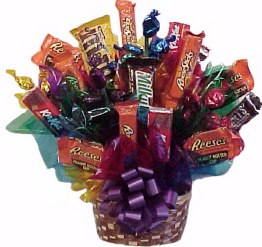 Fun Day
A great bouquet filled with chocolate bars and assorted candies.
$45.95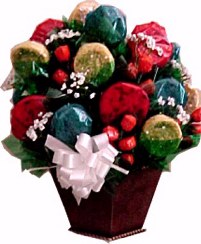 The Big One
Eighteen cookies
in a yummy bouquet. A super gift for office or party.
$59.95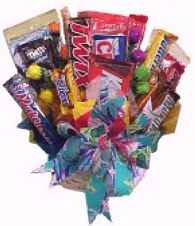 Spring Fun
Candy and cookies abound in this fun basket with cookies and candy bars. $45.95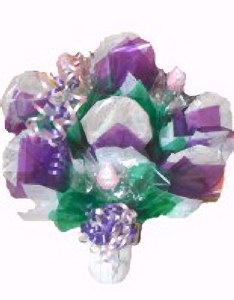 Purple Passion
For the love of purple, accents bring this bouquet to life.
Garden Bouquet
The perfect birthday or any day gift. A dozen cookies planted in an array of colors surrounded by candy buds ready to bloom to life for that special someone.
$45.95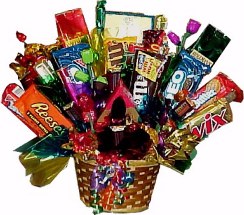 Snack Master Sr.
Candies, cookies, gourmet coffees,nuts, and biscotti, for the young at heart.
$65.95
Be Twix and Between
A dozen cookies intermingled with your favorite Twix barss.
$45.99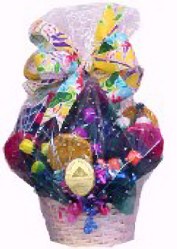 Spring Cookie Bouquet
Nine multiple colored cookies and candies in a white princess basket with bright multicolored ribbons added. $45.95
Sugar Free Bouquets
Are Now Available with 2 day notice.
Balloons
can be added to any arrangement for $3.95
Chocolate Pizza
4.25 lbs. $45.95
3 lbs. $32.95
2 lbs. $26.95
1 lb. $16.95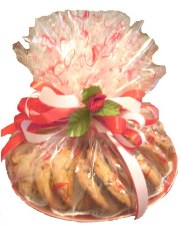 Cookies from the Heart
Send a platter of delicious cookies.
12 cookies $24.95
18 cookies $33.95
24 cookies $42.95
Basic Bouquets
6 Cookie Bouquet $31.95
9 Cookie Bouquet $35.95
12 Cookie Bouquet $45.95
18 Cookie Bouquet $59.95
24 Cookie bouquet $79.95
Cookies Selection includes
Chocolate Chip
Sugar
Peanut Butter
Our Candy Arrangements can be made of any type of available Candy including our various Clusters and Turtles.
We deliver within a 40 mile radius of Kansas City.
Delivery fee is applied.