For something truly Kansas City,
send a
BBQ Gift Basket
Fill it with full size bottles of BBQ sauce from Gates, Bryants, even KC Masterpiece for a tasted of Kansas City. Add in summer sausage, cheeses, crackers and fruit. Include a selection of cookies and chocolates from A Sweet Expression. It will pleasure the palatte.
Prices will vary.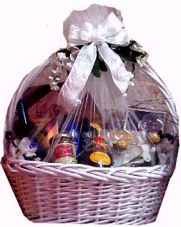 A Special Evening
$149.95
Home Spun Goodness
White and blue leaf pattern tea pot and plate is accompanied by coffee, chocolates and other goodies. $79.95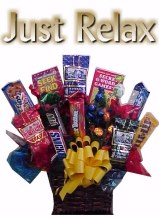 Get Well Soon
A basket full of candies and nuts, are accompanied by crossword puzzle and word find books. A must for someone recuperating.
$45.95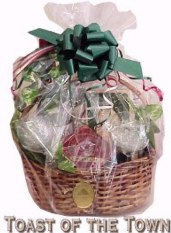 . $89.95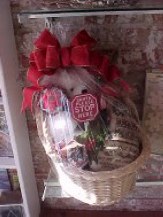 Don't Forget Me
A darling white bear sits cuddled in a wicker bassinet with a bag of nuts and candies with a message for someone special to stop by for a visit.
$45.