Best Teacher
A bouquet of candy bars and assorted goodies express how special they really are.
$35.95
Grade A Teacher
6 super cookies
$31.95
Cookies from the Heart
Send a heart shaped basket of delicious cookies.
12 cookies $24.95
18 cookies $33.95
24 cookies $42.95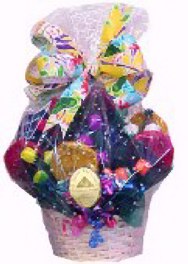 Spring Cookie Bouquet
NIne multiple colored cookies and candies in a white princess basket with bright multicolored ribbons added. $35.95
Purple Passion
For the love of purple, accents bring this bouquet to life. For the Rooster or Chicki in your life
$45.95
Spring Fun
Candy and cookies abound in this fun basket with cookies and candy bars.
$45.95
Chocolate Pizza
4.25 lbs. $45.95
3 lbs. $32.95
2 lbs. $26.95
1 lb. $16.95
Basic Bouquets
6 Cookie Bouquet $31.95
9 Cookie Bouquet $35.95
12 Cookie Bouquet $45.95
18 Cookie Bouquet $59.95
24 Cookie bouquet $79.95
Cookies Selection includes
Chocolate Chip
Sugar
Peanut Butter
Our Candy Arrangements can be made of any type of available Candy including our various Clusters and Turtles.