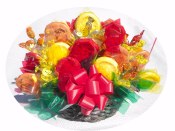 Also consider a stuffed balloon. We can create
memorable gifts for your special occasion.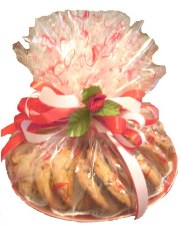 Cookies from the Heart
Send a platter of delicious cookies.
12 cookies $24.95
18 cookies $33.95
24 cookies $42.95
Send a fun bouquet to your graduate. We also have a wonderful variety of Graduation balloons.
Call to select the perfect bouquet of cookies
and/or candy in your school colors.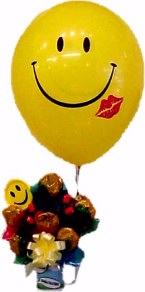 Congratulations
Smiley Guy stands to say it's time to celebrate with this nine cookie bouquet. Fun...fun...fun...
$35.95
Balloon $3.95
Basic Bouquets
6 Cookie Bouquet $31.95
9 Cookie Bouquet $35.95
12 Cookie Bouquet $45.95
18 Cookie Bouquet $59.95
24 Cookie bouquet $79.95
Cookies Selection includes
Regular and Sugar Free
Chocolate Chip
Sugar
Peanut Butter
We also make
specialty graduation chocolates.
for your party.
Sugar Free Bouquets are available in both candy and cookie bouquets.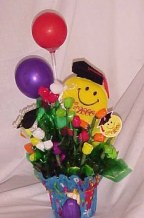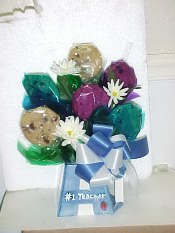 One Special Teacher.
Nonalcoholic champagne helps celebrate a special graduation