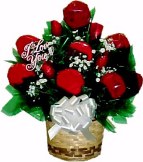 Rose Garden
A dozen cookie roses, accompanied by chocolate kiss roses, make this a special bouquet indeed.
$45.95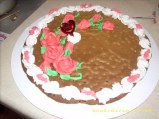 Love Cookie
Scrumptious 12" decorated cookie
$27.95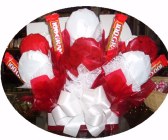 Grand Valentine
A yummy bouquet of a dozen cookies along with 100Grand candy bars.
$45.95
Cupid's Cookies
Sugar cookies ready for love in a sweetheart mug or princess basket.
Half dozen $31.95
Nine $35.95


Roses for You
Be prepared for the OOHS and AAAHHs with this spray of two dozen delicious chocolate Hershey Roses. Be prepared for plenty of Hugs and Kisses.
$59.95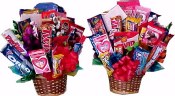 Valentine Snack Master
A basket full of wonderful snacks
for that special someone.
$65.95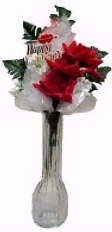 Silk Roses
Roses that can be kept forever, with a chocolate heart as an added treat.
$16.99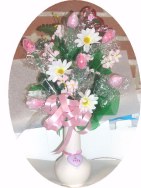 Be My Daisy
A half dozen chocolate rose buds with lovely silk daisys
$35.95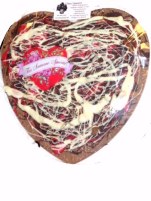 Mystic Pizza
Enjoy a slice of a romantic
pizza of solid chocolate.
4.25 lbs. $45.95
3 lbs. $32.95
2 lbs. $26.95
1 lb. $16.95


Be Mine Pizza
1 lb.
$16.95
Sweetheart Mine
A mug of fun candies for
this special day.
$29.95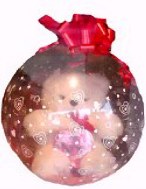 I Love You Bears
Send a stuffed balloon with a lovable stuffed bear inside holding a heart of chocolates. $29
.95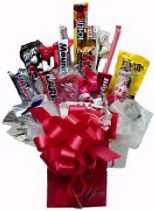 I Love You
A bouquet of delectible candy bars for the person who loves candy.
$31.95
Apple of My Eye
Tell them how special they are with a custom gourmet chocolate and caramel apple.
$7.99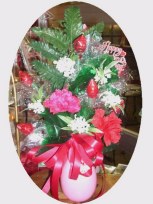 Sweet Innocence
Silk carnations joined with a half dozen chocolate rose buds.
$35.95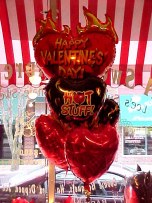 Balloon Arrangement
A Large 30 inch balloon tops of this powerful arrangement.
$42.95
Balloon Bouquets
Send a bouquet that will grab attention and the heart of someone special. Call to see what we have available.
Start at $32.95
Cookies from the Heart
Send a tray of delicious cookies.
12 cookies $24.95
18 cookies $33.95
24 cookies $42.95
Cookie platters available.
Don't forget we also carry a nice selection of sugar free candies and chocolates.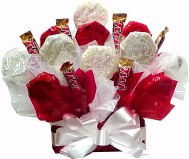 Be Twix and Between
A dozen cookies intermingled with your favorite Twix bars.
$45.99